EdgeStar 15" Built-In Black Stainless Steel Kegerator
Serve up cold draft beer in the comfort of your own home using the EdgeStar 15" Built-In Black Stainless Steel Kegerator (KC1500BL). Whether it's built into your home bar, installed undercounter or left freestanding in the media room, this compact beer dispenser is the perfect addition to any space with limited room. For your convenience, the KC1500BL is capable of holding up to one (1) slim quarter keg, one (1) 1/6 barrel keg, or one (1) Cornelius keg.
Electronic Control Panel
All of your unit settings, including temperature and interior lighting, are easily adjusted using the electronic control panel with push buttons and digital temperature display.
Built-In Capable
Because of its front ventilation, you can build this unit into cabinetry for a seamlessly integrated look or place it under a counter.
Forced Air-Cooled Beer Tower
Cold air is directed up to and throughout the beer tower, preventing lost beer from a foaming first pour and ensuring that your brew stays cold from keg to glass.
LED Interior Lighting
LED interior lighting illuminates your keg(s) and components while consuming less energy and not emitting any heat, so the temperature of your keg(s) will remain uncompromised.
15-inch Slim Width Design
This unit was specially designed to fit narrow spaces with a 15-inch slim width design. Great unit to replace an old trash compactor or that empty space in your cabinetry. Have draft beer at home without sacrificing a ton of space.
Ice Cold Beer
Whether you prefer a cool stout or an ice cold lager, you'll be able to keep your kegs as cold as you please using the integrated thermostat that goes as low as 32°F.


Reversible Door w/ Lock
You have the option of reversing the door swing if you happen to prefer a certain direction or would like the unit to follow the flow of your cabinetry. The integrated door lock provides extra security from unauthorized use.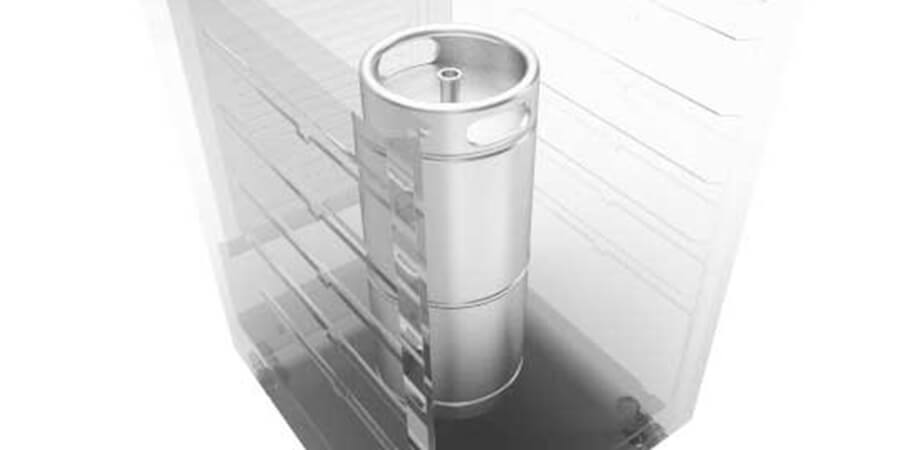 Fits Up to a 1/4 Slim Keg
The KC1500 is the only 15-inch wide kegerator on the market that can hold up to a 1/4 slim barrel sized keg. It can also accommodate the popular sixth barrel keg which most craft beer is available in.
---
Premium Beer Components Included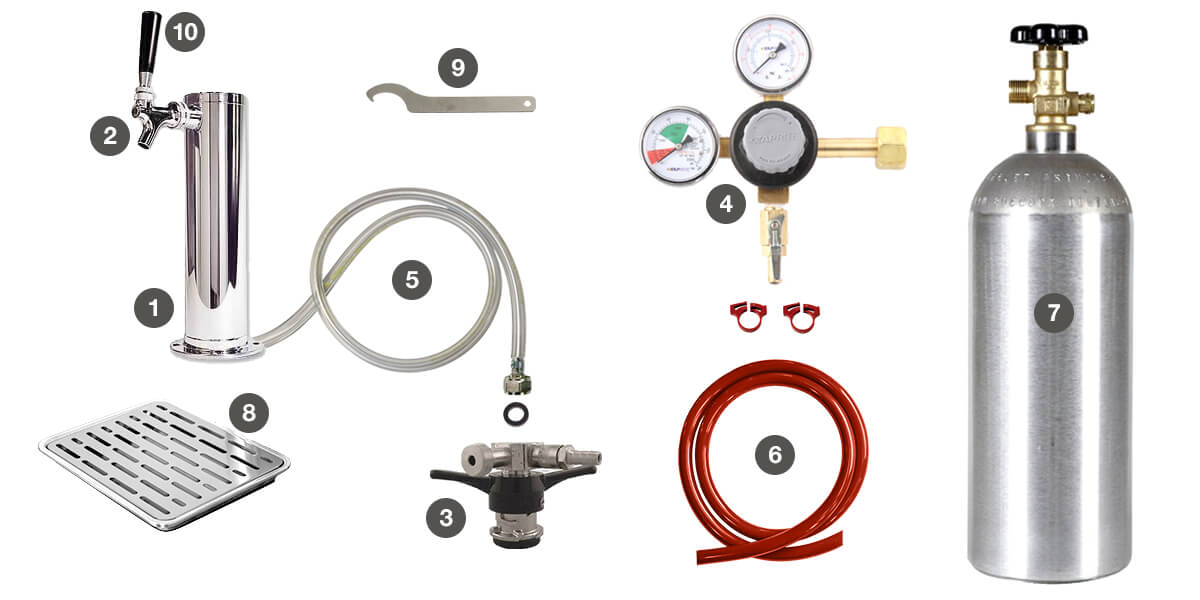 1
Stainless Steel Column Draft Beer Tower
2
304 Stainless Steel Faucet
3
Low Profile "D" System Beer Coupler
4
Commercial Grade Dual-Gauge Regulator
5
5 ft. of 3/16 in. I.D. NSF Approved Beer Line
6
5 ft. of 5/16 in. I.D. Vinyl Air Line
7
5 lb. Aluminum CO2 tank (Empty)
8
Stainless Steel Drip Tray
---
Keg Types & Capacities
Slim-Pony Keg
1/4 Barrel
(62 Pints)
Sixth Barrel Keg
1/6 Barrel
(42 Pints)
Cornelius Keg
1/6 Barrel
(40 Pints)
(1) Pony Keg
(1) Sixth Barrel Keg
(1) Cornelius Keg
---
How to assemble your KC7000 Kegerator
How to assemble your KC7000 Kegerator
How to assemble your KC7000 Kegerator
Easy 30 Minute Assembly
Use our easy to follow instruction guide or assembly video to build your kegerator. The average assembly time is 30-40 minutes and can be completed with minimal skill.
* Please keep in mind the co2 tank comes empty due to HAZMAT shipping restrictions and will need to be filled at a local air/gas or welding supplier.
---
Recommended Cleaning Kits
We recommend cleaning your beer lines after every keg or a minimum of every two weeks. Here are our most popular options:
Our best-selling, easy to use, gravity fed cleaning kit will get the job done.


---
Frequently Asked Questions
Can I build-in this unit undercounter?

Yes. Its front ventilating design allows you to build this unit into undercounter applications.



Do I need anything else?

This setup comes with essentially everything you need to get started. All you'll need to do is get the gas cylinder filled and a keg of your favorite beer.



How many kegs will the co2 tank last?

Once filled, the gas cylinder that is provided will usually last 4-5 full sized kegs or approximately 13-15 sixth barrel kegs.



Where do I get my co2 tank filled?

Co2 is a commonly used commercial gas. You should be able to find a local air/gas or welding supplier to fill your tank.



How long will a keg of beer stay fresh in a kegerator?

Typically domestic kegs can last 6-8 weeks staying under the proper temperature and pressure. Pasteurized beers, usually imported kegs, can last up to 12 weeks.
---
*When empty, it is recommended that you keep the temperature between 35-38ºF.
**CALIFORNIA RESIDENTS:
Click here
for important information regarding Prop. 65 for CA residents.
Specifications
Model: KC1500BL

EdgeStar 15" Built-In Black Stainless Steel Kegerator

Brand: EdgeStar

Black stainless steel door

Front ventilation

Reinforced stainless steel floor

Forced air refrigeration

Low profile "D" coupler

Digital thermostat

Draft components included

Interior LED lighting

Temperature Range: 32 – 60°F

Forced air-cooled beer tower

Possible Keg Configurations: (1) slim quarter, (1) 1/6 sixth barrel, or (1) Cornelius keg

Safety lock

Refrigerant: R600a, 1.06 oz

Reversible door

120 watts, 0.93 amps

Stainless steel guardrail & drip tray

Input Voltage: 115 V/60 Hz

Four (4) casters included

Weight: 84 lbs

Warranty: One (1) year limited parts & labor

Dimensions: 34 1/8" H x 15" W x 24" D
Dimensions
Height: 34 1/8"
Width: 15"
Depth: 24"