Learn About Grills & Smokers
Popular Articles: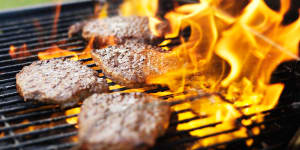 Grilling is a hot commodity and although grills are relatively simple and fun to cook on, some safety precautions should be taken to help with…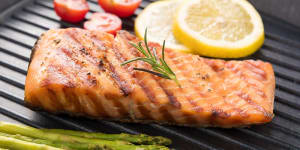 Salmon is one of the easiest and most delicious fish to cook on the grill. By paying attention to a few minor details, you can…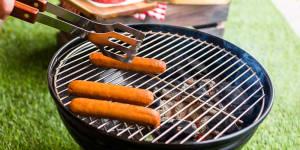 Table of Contents Why You Should Consider A Charcoal Grill Types of Charcoal Grills Factors to Consider While Shopping Popular Grilling Brands Grilling is a…
Propane and Gas Grills
Family get-togethers and a backyard pool parties would simply not be the same without the scent of sizzling meat filling the air as the grill master flips patties fills buns as fast as happy, hungry guests can gobble them down. Gas grills utilize propane and natural gas to produce heat used in outdoor cooking, typically contain anywhere from a single burner up to five independently operated burners, and are ideal for quickly producing large amounts of food for large events and celebrations. Because of their convenience in quick set up, cook times and easy cleanups, propane grills have become an integral part of American grilling culture.
Gas grills have not only taken up permanent residence American backyards from coast to coast, many combine beautiful and rugged stainless steel construction that are as much art as they are function. Technological advances such as built-in hood thermometers and the incorporation of infrared grills have also begun to bridge the flavor gap between gas and charcoal, edging closer to flavors traditionally reserved for the natural smoky woodiness of charcoal grills and widening the functional capabilities of the most recent generation of gas grills passed that of their hard working but somewhat more limited forebears.
Previously, gas grills were not able to sustain the same extreme highs and lows in temperatures that could be produced with simpler charcoal grills. While they functioned excellently for quickly cooked meats, this limited the ability of gas and propane grills to seer in the juices of meats as effectively, or produce the subtler taste experience of low temperature roasting and smoking. Advances in grilling technology have moved passed this, uniting the easy convenience of gas with the flavorful richness of charcoal.
How You Can Use a Gas Grill
A gas grill can be lit within seconds, and within another ten minutes, is completely ready to go, compared to the quarter of an hour it may take to prepare a more traditional charcoal or wood grill. You can attach a fuel tank to the underside of the grill unit, or even install a direct hook-up to the natural gas line of your home to ensure that you never run out of gas mid cookout. Gas grills are ideal not just for large events, but weekday evening meals. A quick lunch or dinner can be thrown on the grill for a busy family sometime between soccer and violin practice, ensuring a healthy, home cooked meal even in a pinch. Once your meal is complete, a gas grill is cleaned quickly and efficiently by turning the heat on high until smoke is no longer produced and giving the grill a brush down.
Technological Advances
Many high end gas grills contain the newest infrared technology, ensuring an even heat distribution and allowing for temperatures high enough to sear juices inside of meats, features traditionally confined only to charcoal grills. Infrared grills find a happy combination of the convenience and ease of use of well-established gas grill technology with the increased ability to play with a greater range of temperatures and a more nuanced flavor profiles that may fool even the most devoted charcoal grill purist.
Other technological improvements involved in many models includes full sized rotisseries in which larger home use grills can roast two whole chickens at a time. Others may include interior halogen lighting which is automatically activated when the sun sets and LED control panel illumination so you can continue to cook well into the evening.
The Benefits of a Gas Grill
While charcoal can be sensitive to colder temperatures, a gas grill will quickly roar to life regardless of rain, sleet, snow or sunshine. An investment in a gas or propane grill will widen your culinary options out of the confining walls of the kitchen, allowing you to access unique, earthy flavors which are difficult to recreate indoors. Not only can easy and delicious standbys such as burgers and chicken wings be quickly thrown on the grill, other options such as vegetable kabobs, whole bell peppers, crispy potato slices or even a crusty loaf of bread brushed with crushed garlic and olive oil are all delicious with the proud addition of a few grill marks.
A well cared for grill can last for decades, providing many delicious meals for your family and guests. Invest in a high quality gas or propane grill today with one of the many options offered by Living Direct.